[vc_row row_type="row" use_row_as_full_screen_section="no" type="full_width" text_align="left" video="" css_animation="" box_shadow_on_row="no"][vc_column][vc_separator type="normal" color="#c1e5f4″ thickness="8″ up="8″ down="8″][/vc_column][/vc_row][vc_row row_type="row" use_row_as_full_screen_section="yes" type="full_width" text_align="left" video="" side_padding="20%" padding_top="8″ padding_bottom="8″ css_animation="" box_shadow_on_row="no"][vc_column width="1/3″][cq_vc_vectorcard avatartype="icon" avataricon="entypo" icon_entypo="entypo-icon entypo-icon-bookmarks" authorname="MSc" authorrole="40 ICH | 60 ECTS" cardstyle="bluejeans" elementheight="280″]Program Type[/cq_vc_vectorcard][/vc_column][vc_column width="1/3″][cq_vc_vectorcard avatartype="icon" avataricon="entypo" icon_entypo="entypo-icon entypo-icon-shareable" authorname="EUCLID School of Theology and Interfaith Studies" cardstyle="customized" cardtopbgcolor="#dda756″ linedirection="straight" elementheight="280″]School[/cq_vc_vectorcard][/vc_column][vc_column width="1/3″][cq_vc_vectorcard avatartype="icon" avataricon="entypo" icon_entypo="entypo-icon entypo-icon-infinity" authorname="Online / Distance" authorrole="Part Time or Full Time" cardstyle="mint" linedirection="straight" elementheight="280″]Study Mode[/cq_vc_vectorcard][/vc_column][/vc_row][vc_row row_type="row" use_row_as_full_screen_section="no" type="full_width" text_align="left" video="" css_animation="" box_shadow_on_row="no"][vc_column][vc_separator type="normal" color="#c1e5f4″ thickness="8″ up="8″ down="8″][/vc_column][/vc_row][vc_row row_type="row" use_row_as_full_screen_section="no" type="full_width" text_align="left" video="" css_animation="" box_shadow_on_row="no"][vc_column][et_parent tab_style="topline"][et_single icon="info-circle" tab_title="Overview" tab_id="3a0f4fde-babe-10″][vc_column_text]
Online Master in Interfaith Research and Diplomacy (MIRD)
EUCLID is in a unique position to offer the world's leading online master in interfaith studies:
as an intergovernmental university with a specific mandate in inter-religious dialogue
as the winner of the UN World Interfaith Harmony Week Prize
It is the only Master's degree program in interfaith studies organized by an international intergovernmental organization and officially used by active diplomats over 4 continents, currently counting one ambassador (to France / UNESCO) as a program graduate.
The MIRD is a balanced and in-depth zero-residency program delivered by a treaty-based and treaty-practicing institution, and as stated by the United Nations in a rare instance of explicit confirmation, "the UN Secretariat recognize Euclide- Pole Universitaire Euclide and the other four UN institutions … as being accredited."

[/vc_column_text][vc_column_text]
Academic Presentation
These two specialized Master's degree focuses on interfaith practice and the actual application of interfaith skills in the community, rather than the advancement of academic knowledge for its own sake. Both programs place a special emphasis on contemporary Islam, Muslim-Christian dialogue, secularism and "Laïcité," as well as de-radicalization and mediation.
Both programs can be considered as an excellent route to pursue a career within governmental bodies, NGOs and international organizations.
Within certain parameters, the EUCLID Online Masters in Interfaith Studies / Inter-religious /dialogue and Diplomacy is customizable, with elective courses focusing on:
Specific world religions
Inter-cultural issues
Mediation and conflict resolution
Inter-ethnic and inter-religious relations
Radicalization and de-radicalization
"A Common Word" and Muslim -Christian relations
[/vc_column_text][vc_separator type="normal"][vc_column_text]
Interfaith Visibility in Action
EUCLID is very active and widely recognized for its leadership in interfaith studies. In 2016, EUCLID was awarded the First Prize of the UN World Interfaith Harmony Week from the hands of H.M. King Abdullah of Jordan. EUCLID maintains a dedicated web site at http://interfaith.euclid.int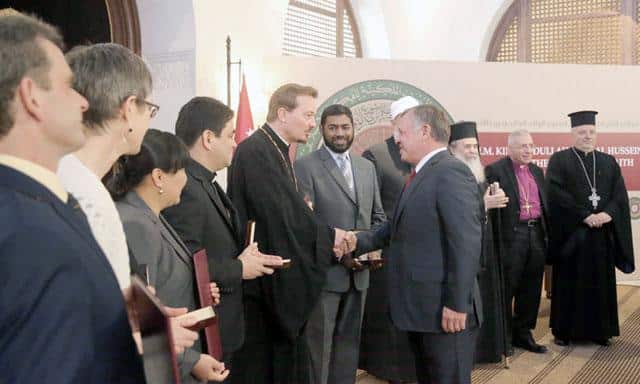 Photo above: The  award ceremony held at the Royal Palace in Amman, Jordan (2016). Below: EUCLID's Pr Laurent Cleenewerck was honored with the responsibility of delivering the opening speech in front of the distinguished audience.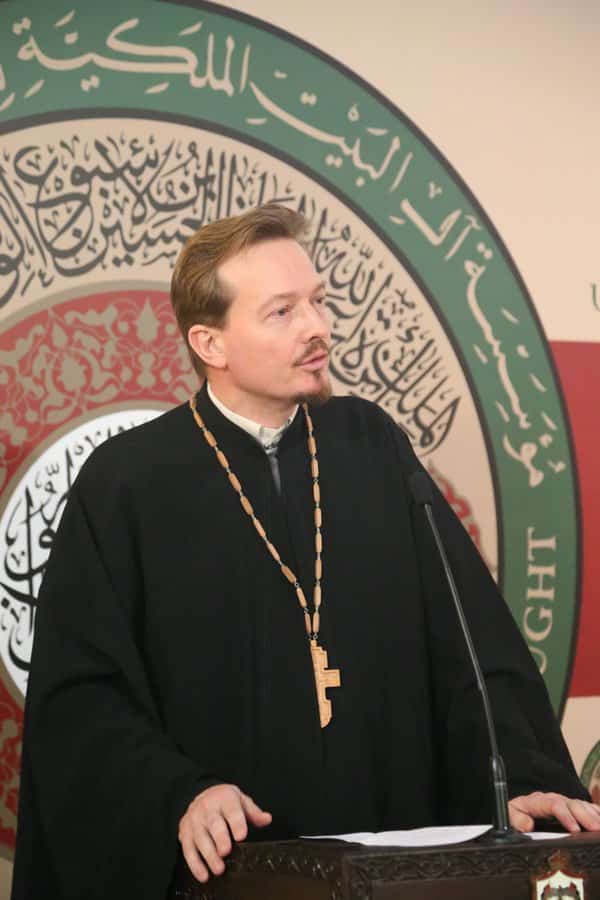 [/vc_column_text][/et_single][et_single icon="align-justify" tab_title="Outline" tab_id="fcacf16f-1cb8-7″][TS-VCSC-IFrame content_iframe="http://www.euclid.int/degreecourses-iframe2.asp?DegreeIndex=68″][/et_single][et_single icon="check-circle-o" tab_title="Requirements" tab_id="1467953415050-2-7″][cq_vc_materialcard title="Admissions / Entry Requirements for the MTh" icon_fontawesome=""]
Applicants should have a relevant Bachelor's degree issued by an institution listed in the UNESCO-IAU handbook / database. Similar or related backgrounds with adequate professional experience may be considered
Government-sponsored applicants (who are already government staff) may be admitted without the required educational credential if their level of education and experience is deemed sufficient. EUCLID may require these participants to complete bridge courses prior to enrolling in the program.
Fluency in English (spoken and written) is required and will be tested.
Students are expected to be in position to dedicate 10 to 15 effective hours of study on a weekly basis.[/cq_vc_materialcard][/et_single][et_single icon="euro" tab_title="Tuition" tab_id="1467953460876-3-3″][cq_vc_materialcard title="Tuition and Fees" icon_fontawesome=""][iframe src="http://www.euclid.int/iframe-tuition.asp"][/cq_vc_materialcard][/et_single][et_single icon="arrows-alt" tab_title="Employment" tab_id="1467953508756-4-6″][cq_vc_materialcard title="Employment Outlook" icon_fontawesome=""]This program provides outstanding academic preparation to its students for further studies at the doctoral level as well as for government or academic service. Interfaith graduates are in demand all over the world, both at the local (community engagement) and global levels (government and intergovernmental agencies). Interfaith experts are rare and we except the employment outlook to remain very positive in the long term.[/cq_vc_materialcard][/et_single][et_single icon="users" tab_title="Faculty" tab_id="1468020030412-5-9″][vc_row_inner row_type="row" type="full_width" use_row_as_full_screen_section_slide="no" text_align="left" css_animation="" box_shadow_on_row="no"][vc_column_inner][cq_vc_materialcard title="Faculty Highlights" icon_fontawesome=""]EUCLID's degree programs are supported by a world-class faculty group which is truly global in scope and dedicated to high-quality interaction with each student. For each program, 3 faculty members are featured below, and the full faculty roster is accessible via the top menu.[/cq_vc_materialcard][/vc_column_inner][/vc_row_inner][vc_row_inner row_type="row" type="full_width" use_row_as_full_screen_section_slide="no" text_align="left" css_animation="" box_shadow_on_row="no"][vc_column_inner width="1/3″][cq_vc_vectorcard avatartype="image" avatarimage="16727″ resizeavatarimage="yes" avatarimagewidth="180″ authorname="Professor of Theology and International Administration" authorrole="(USA)" cardstyle="bluejeans" avatarlink="url:http%3A%2F%2Fm.euclid.int%2Ffaculty-profiles%2F|||"]Pr Laurent Cleenewerck[/cq_vc_vectorcard][/vc_column_inner][vc_column_inner width="1/3″][cq_vc_vectorcard avatartype="image" avatarimage="16765″ resizeavatarimage="yes" avatarimagewidth="180″ authorname="Professor of Theology" authorrole="(Italy)" cardstyle="bluejeans" avatarlink="url:http%3A%2F%2Fm.euclid.int%2Ffaculty-profiles%2F|||"]Pr Jose Kuruchavira[/cq_vc_vectorcard][/vc_column_inner][vc_column_inner width="1/3″][cq_vc_vectorcard avatartype="image" avatarimage="16766″ resizeavatarimage="yes" avatarimagewidth="180″ authorname="Adjunct Professor" authorrole="(USA)" cardstyle="bluejeans" avatarlink="url:http%3A%2F%2Fm.euclid.int%2Ffaculty-profiles%2F|||"]Pr Muhammed Al-Hashimi[/cq_vc_vectorcard][/vc_column_inner][/vc_row_inner][/et_single][/et_parent][/vc_column][/vc_row][vc_row row_type="row" use_row_as_full_screen_section="no" type="full_width" text_align="left" video="" css_animation="" box_shadow_on_row="no"][vc_column][vc_separator type="normal" color="#c1e5f4″ thickness="8″ up="8″ down="8″][interactive_banner_2 banner_title="Download Brochure" banner_desc="The full MIRD Brochure can be downloaded in PDF format." banner_image="id^16355|url^https://m.euclid.int/wp-content/uploads/2015/04/header-euclid-2016-visualization.jpg|caption^null|alt^null|title^header-euclid-2016-visualization|description^null" banner_link="url:http%3A%2F%2Fwww.euclid.int%2Fbrochures%2Fmird.pdf||target:%20_blank|" banner_style="style11″ image_opacity="0.8″ image_opacity_on_hover="0.4″ banner_title_style="font-weight:bold;" banner_title_font_size="desktop:42px;" banner_title_line_height="desktop:44px;" banner_desc_font_size="desktop:24px;" banner_desc_line_height="desktop:24px;"][vc_separator type="normal" color="#c1e5f4″ thickness="8″ up="8″ down="8″][/vc_column][/vc_row][vc_row row_type="row" use_row_as_full_screen_section="no" type="full_width" text_align="left" video="" css_animation="" box_shadow_on_row="no" bg_type="image" parallax_style="vcpb-vz-jquery" bg_image_new="id^16299|url^https://m.euclid.int/wp-content/uploads/2015/04/header-euclid-2016-dc-office.jpg|caption^null|alt^null|title^header-euclid-2016-dc-office|description^null" bg_image_repeat="no-repeat"][vc_column][vc_separator type="normal" color="#c1e5f4″ thickness="8″ up="8″ down="8″][cq_vc_bannerblock bannertitle="Why study at EUCLID?" titleborder="solid" titlebordercolor="#ffffff" bannercontent="EUCLID is the only intergovernmental, treaty-based university with a UN registered charter and recognized expertise in diplomacy. Join the alma mater of ambassadors and senior officials globally." textcolor="#ffffff" isarrow="arrowbottom" arrowcolor="#ffffff"][vc_separator type="normal" color="#c1e5f4″ thickness="8″ up="8″ down="8″][/vc_column][/vc_row][vc_row row_type="row" use_row_as_full_screen_section="no" type="full_width" text_align="left" video="" side_padding="20%" padding_top="10″ padding_bottom="10″ css_animation="" box_shadow_on_row="no"][vc_column][ultimate_heading main_heading="From the EUCLID News and Blog"][/ultimate_heading][jps_bete_sc style="bt-carousel-6″ filter_options="category" items_per_page="5″ taxonomies="2, 5, 7″][/vc_column][/vc_row][vc_row row_type="row" use_row_as_full_screen_section="no" type="full_width" text_align="left" video="" css_animation="" box_shadow_on_row="no"][vc_column][vc_separator type="normal" color="#c1e5f4″ thickness="8″ up="8″ down="8″][/vc_column][/vc_row][vc_row row_type="row" use_row_as_full_screen_section="no" type="full_width" text_align="left" video="" css_animation="" box_shadow_on_row="no" bg_type="image" parallax_style="vcpb-animated" bg_image_new="id^16553|url^https://m.euclid.int/wp-content/uploads/2016/07/separator01.jpg|caption^null|alt^null|title^separator01|description^null"][vc_column][cq_vc_bannerblock bannertitle="Contact Form" textcolor="#ffffff" elementheight="120″][/vc_column][/vc_row][vc_row row_type="row" use_row_as_full_screen_section="no" type="full_width" text_align="left" video="" side_padding="20%" css_animation="" box_shadow_on_row="no"][vc_column][vc_column_text][formidable id=6][/vc_column_text][/vc_column][/vc_row][vc_row row_type="row" use_row_as_full_screen_section="no" type="full_width" text_align="left" video="" css_animation="" box_shadow_on_row="no"][vc_column][vc_separator type="normal" color="#c1e5f4″ thickness="8″ up="8″ down="8″][/vc_column][/vc_row]