[vc_row row_type="row" use_row_as_full_screen_section="no" type="full_width" text_align="left" video="" css_animation="" box_shadow_on_row="no"][vc_column][vc_separator type="normal" color="#c1e5f4″ thickness="8″ up="8″ down="8″][/vc_column][/vc_row][vc_row row_type="row" use_row_as_full_screen_section="yes" type="full_width" text_align="left" video="" side_padding="20%" padding_top="8″ padding_bottom="8″ css_animation="" box_shadow_on_row="no"][vc_column width="1/3″][cq_vc_vectorcard avatartype="icon" avataricon="entypo" icon_entypo="entypo-icon entypo-icon-bookmarks" authorname="MBA" authorrole="36-40 ICH beyond BA/BS" cardstyle="bluejeans" elementheight="280″]Program Type[/cq_vc_vectorcard][/vc_column][vc_column width="1/3″][cq_vc_vectorcard avatartype="icon" avataricon="entypo" icon_entypo="entypo-icon entypo-icon-shareable" authorname="EUCLID School of Global Business and Economics" cardstyle="customized" cardtopbgcolor="#dda756″ linedirection="straight" elementheight="280″]School[/cq_vc_vectorcard][/vc_column][vc_column width="1/3″][cq_vc_vectorcard avatartype="icon" avataricon="entypo" icon_entypo="entypo-icon entypo-icon-infinity" authorname="Online / Distance" authorrole="Part Time or Full Time" cardstyle="mint" linedirection="straight" elementheight="280″]Study Mode[/cq_vc_vectorcard][/vc_column][/vc_row][vc_row row_type="row" use_row_as_full_screen_section="no" type="full_width" text_align="left" video="" css_animation="" box_shadow_on_row="no"][vc_column][vc_separator type="normal" color="#c1e5f4″ thickness="8″ up="8″ down="8″][/vc_column][/vc_row][vc_row row_type="row" use_row_as_full_screen_section="no" type="full_width" text_align="left" video="" css_animation="" box_shadow_on_row="no"][vc_column][et_parent tab_style="topline"][et_single icon="info-circle" tab_title="Overview" tab_id="3a0f4fde-babe-10″][vc_column_text]
Online MBA in Islamic  Finance
It is remarkable that EUCLID's online MBA in Islamic Finance program was developed as a Joint Initiative between EUCLID (an intergovernmental treaty-based institution) and ICCI (now ICCIA, the Islamic Chamber of Commerce, Industry and Agriculture), in 2008.
It is at the convergence of EUCLID's expertise in global governance, international civil service and interfaith studies. This MBA begins with a strong and award winning (see MBASD) MBA core and continues with advanced courses in both Islamic economics and finance.
It is the only online graduate program in this important field of academic study and professional practice organized by an international intergovernmental organization and officially used by active civil servants over 4 continents. In this regards, it is an excellent choice for both Muslim and non-Muslim students alike.[/vc_column_text][vc_separator type="normal"][vc_column_text]
Academic Presentation
This specialized MBA represents a minimum of 36 credits ("ICH" as used in North America) but often reaches 40 or 42 credits (equivalent to 120 ECTS) for students who wish to also do a thesis as part of their course of studies. The thesis is often a proof of concept for professional application or further studies at the doctoral level.
Among the suggested areas of focus are:
Islamic Banking Sustainable Development Goals
Islamic Finance in Africa
Islamic Microfinance
Alternative Banking Models
[/vc_column_text][vc_separator type="normal"][vc_column_text]
EUCLID = Islamic Finance in Practice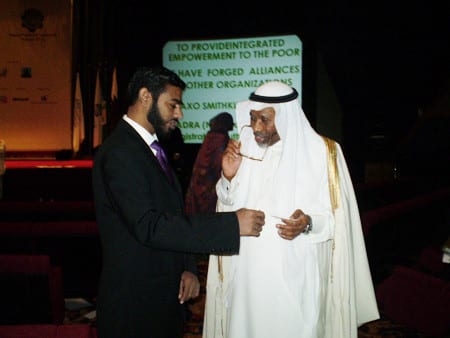 Photo above: EUCLID's Secretary General Syed Zahid Ali with the President of the Islamic Development Bank (2008). EUCLID became an IsDB Partner in 2014.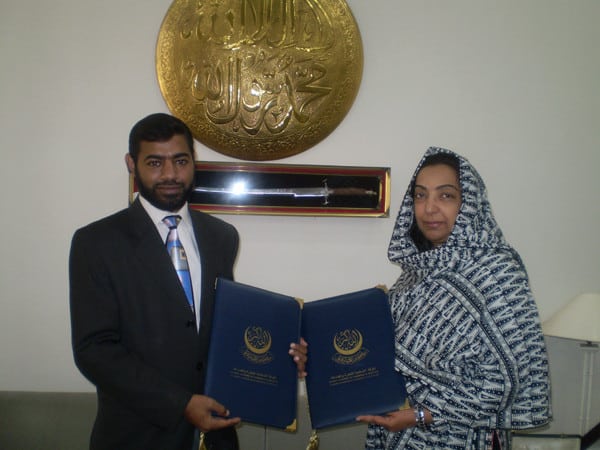 [/vc_column_text][/et_single][et_single icon="align-justify" tab_title="Outline" tab_id="fcacf16f-1cb8-7″][TS-VCSC-IFrame content_iframe="http://www.euclid.int/degreecourses-iframe2.asp?DegreeIndex=60″][/et_single][et_single icon="check-circle-o" tab_title="Requirements" tab_id="1467953415050-2-7″][cq_vc_materialcard title="Admissions / Entry Requirements for the MDIA" icon_fontawesome=""]
Applicants should have a relevant Master's degree issued by an institution listed in the UNESCO-IAU handbook / database. Similar or related backgrounds with adequate professional experience may be considered
Government-sponsored applicants (who are already government staff) may be admitted without the required educational credential if their level of education and experience is deemed sufficient. EUCLID may require these participants to complete bridge courses prior to enrolling in the program.
Fluency in English (spoken and written) is required and will be tested.
Students are expected to be in position to dedicate 10 to 15 effective hours of study on a weekly basis.[/cq_vc_materialcard][/et_single][et_single icon="euro" tab_title="Tuition" tab_id="1467953460876-3-3″][cq_vc_materialcard title="Tuition and Fees" icon_fontawesome=""][iframe src="http://www.euclid.int/iframe-tuition.asp"][/cq_vc_materialcard][/et_single][et_single icon="arrows-alt" tab_title="Employment" tab_id="1467953508756-4-6″][cq_vc_materialcard title="Employment Outlook" icon_fontawesome=""]The EUCLID DIFE provides outstanding professional and academic preparation to its students for a successful career in Islamic finance at the international, regional, national and local levels. Outlook includes teaching positions, banking positions, and economic policy positions. There is also increasing demand for experts in Islamic finance and economics in non-Muslim countries and institutions, and one does not have to be a Muslim to study Islamic finance.
EUCLID alumni have been successful securing employment and promotions in government service and international organizations, including at the level of ambassador and minister.[/cq_vc_materialcard][/et_single][et_single icon="users" tab_title="Faculty" tab_id="1468020030412-5-9″][vc_row_inner row_type="row" type="full_width" use_row_as_full_screen_section_slide="no" text_align="left" css_animation="" box_shadow_on_row="no"][vc_column_inner][cq_vc_materialcard title="Faculty Highlights" icon_fontawesome=""]EUCLID's MBA in Islamic Finance program is supported by a world-class faculty group which is truly global in scope and dedicated to high-quality interaction with each student. For each program, 3 faculty members are featured below, and the full faculty roster is accessible via the top menu.[/cq_vc_materialcard][/vc_column_inner][/vc_row_inner][vc_row_inner row_type="row" type="full_width" use_row_as_full_screen_section_slide="no" text_align="left" css_animation="" box_shadow_on_row="no"][vc_column_inner width="1/3″][cq_vc_vectorcard avatartype="image" avatarimage="16766″ resizeavatarimage="yes" avatarimagewidth="180″ authorname="Professor of Islamic Finance" authorrole="(Australia)" cardstyle="bluejeans" avatarlink="url:http%3A%2F%2Fm.euclid.int%2Ffaculty-profiles%2F|||"]Pr Muhammed Al-Hashimi[/cq_vc_vectorcard][/vc_column_inner][vc_column_inner width="1/3″][cq_vc_vectorcard avatartype="image" avatarimage="16832″ resizeavatarimage="yes" avatarimagewidth="180″ authorname="Professor of Islamic Economics" authorrole="(Hong Kong)" cardstyle="bluejeans" avatarlink="url:http%3A%2F%2Fm.euclid.int%2Ffaculty-profiles%2F|||"]Pr Charles Yassin Chan[/cq_vc_vectorcard][/vc_column_inner][vc_column_inner width="1/3″][cq_vc_vectorcard avatartype="image" avatarimage="16796″ resizeavatarimage="yes" avatarimagewidth="180″ authorname="Professor of International Administration" authorrole="(Ethiopia)" cardstyle="bluejeans" avatarlink="url:http%3A%2F%2Fm.euclid.int%2Ffaculty-profiles%2F|||"]Pr Mwinyikione Mwinyihija[/cq_vc_vectorcard][/vc_column_inner][/vc_row_inner][/et_single][/et_parent][/vc_column][/vc_row][vc_row row_type="row" use_row_as_full_screen_section="no" type="full_width" text_align="left" video="" css_animation="" box_shadow_on_row="no"][vc_column][vc_separator type="normal" color="#c1e5f4″ thickness="8″ up="8″ down="8″][interactive_banner_2 banner_title="Download Brochure" banner_desc="The full MBAIF Brochure can be downloaded in PDF format." banner_image="id^16355|url^https://m.euclid.int/wp-content/uploads/2015/04/header-euclid-2016-visualization.jpg|caption^null|alt^null|title^header-euclid-2016-visualization|description^null" banner_link="url:http%3A%2F%2Fwww.euclid.int%2Fbrochures%2Fmbaif.pdf||target:%20_blank|" banner_style="style11″ image_opacity="0.8″ image_opacity_on_hover="0.4″ banner_title_style="font-weight:bold;" banner_title_font_size="desktop:42px;" banner_title_line_height="desktop:44px;" banner_desc_font_size="desktop:24px;" banner_desc_line_height="desktop:24px;"][vc_separator type="normal" color="#c1e5f4″ thickness="8″ up="8″ down="8″][/vc_column][/vc_row][vc_row row_type="row" use_row_as_full_screen_section="no" type="full_width" text_align="left" video="" css_animation="" box_shadow_on_row="no" bg_type="image" parallax_style="vcpb-vz-jquery" bg_image_new="id^16299|url^https://m.euclid.int/wp-content/uploads/2015/04/header-euclid-2016-dc-office.jpg|caption^null|alt^null|title^header-euclid-2016-dc-office|description^null" bg_image_repeat="no-repeat"][vc_column][vc_separator type="normal" color="#c1e5f4″ thickness="8″ up="8″ down="8″][cq_vc_bannerblock bannertitle="Why study at EUCLID?" titleborder="solid" titlebordercolor="#ffffff" bannercontent="EUCLID is the only intergovernmental, treaty-based university with a UN registered charter and recognized expertise in Islamic finance. EUCLID is a partner of the Islamic Development Bank (IsDB) and Islamic Chamber of Commerce, Industry and Agriculture (ICCIA). " textcolor="#ffffff" isarrow="arrowbottom" arrowcolor="#ffffff"][vc_separator type="normal" color="#c1e5f4″ thickness="8″ up="8″ down="8″][/vc_column][/vc_row][vc_row row_type="row" use_row_as_full_screen_section="no" type="full_width" text_align="left" video="" side_padding="20%" padding_top="10″ padding_bottom="10″ css_animation="" box_shadow_on_row="no"][vc_column][ultimate_heading main_heading="From the EUCLID News and Blog"][/ultimate_heading][jps_bete_sc style="bt-carousel-6″ filter_options="category" items_per_page="5″ taxonomies="2, 5, 7″][/vc_column][/vc_row][vc_row row_type="row" use_row_as_full_screen_section="no" type="full_width" text_align="left" video="" css_animation="" box_shadow_on_row="no"][vc_column][vc_separator type="normal" color="#c1e5f4″ thickness="8″ up="8″ down="8″][/vc_column][/vc_row][vc_row row_type="row" use_row_as_full_screen_section="no" type="full_width" text_align="left" video="" css_animation="" box_shadow_on_row="no" bg_type="image" parallax_style="vcpb-animated" bg_image_new="id^16553|url^https://m.euclid.int/wp-content/uploads/2016/07/separator01.jpg|caption^null|alt^null|title^separator01|description^null"][vc_column][cq_vc_bannerblock bannertitle="Contact Form" textcolor="#ffffff" elementheight="120″][/vc_column][/vc_row][vc_row row_type="row" use_row_as_full_screen_section="no" type="full_width" text_align="left" video="" side_padding="20%" css_animation="" box_shadow_on_row="no"][vc_column][vc_column_text][formidable id=6][/vc_column_text][/vc_column][/vc_row][vc_row row_type="row" use_row_as_full_screen_section="no" type="full_width" text_align="left" video="" css_animation="" box_shadow_on_row="no"][vc_column][vc_separator type="normal" color="#c1e5f4″ thickness="8″ up="8″ down="8″][/vc_column][/vc_row]