Online Master in Catholic Theology (Archived Page)
The School of Theology and Interfaith Studies at EUCLID (Euclid University) offers a primary external (distance or online) degree program specifically called: Master of Theology in Roman Catholic Studies (MRCS). The degree is recognized by the Holy See under applicable UNESCO conventions.
Academic Presentation
In accordance with international guidelines, this distance (non-resident) doctoral program in Roman Catholic theology represents 90 US credits of coursework beyond the Bachelor's degree.
In practice, this represents about 55-60 US credits of coursework beyond the Master's degree. This includes 25 US credits granted for the thesis/dissertation which must result in a publishable work.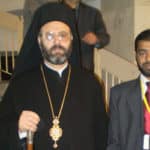 Possible areas of specialization include:
– Patristics
– Liturgical Studies
– Modern Catholic theologians
– Ecumenical and Inter-Religious relations
– Advanced Scriptural Studies
– Social Issues, Ethics and Bioethics[/vc_column_text][vc_separator type="normal"][vc_column_text]
| | |
| --- | --- |
| | Academic Paper by Jose Kuruvachira on "Dialogue and Mission" |
| | Academic Paper by Jose Kuruvachira on "Revelation" |
Applicants should have a relevant Bachelor's degree issued by an institution listed in the UNESCO-IAU handbook/database. Similar or related backgrounds with adequate professional experience may be considered

Government-sponsored applicants (who are already government staff) may be admitted without the required educational credential if their level of education and experience is deemed sufficient. EUCLID may require these participants to complete bridge courses prior to enrolling in the program.

Fluency in English (spoken and written) is required and will be tested.

Students are expected to be in a position to dedicate 10 to 15 effective hours of study on a weekly basis.
The EUCLID Master of Theology program provides outstanding academic preparation to its students for further studies at the doctoral level or for ecclesiastical service. Its main purpose is to offer an engaging, academically and theologically sound graduate program to anyone interested in the Catholic Faith.
It is worth mentioning that our programs are taught from a Magisterial (official teachings of the Catholic Church) rather than from a controversial perspective.
EUCLID's Master's of Theology programs are supported by a world-class faculty group that is truly global in scope and dedicated to high-quality interaction with each student. For each program, 3 faculty members are featured below, and the full faculty roster is accessible via the top menu.