[vc_row row_type="row" use_row_as_full_screen_section="no" type="full_width" text_align="left" video="" css_animation="" box_shadow_on_row="no"][vc_column][vc_separator type="normal" color="#c1e5f4″ thickness="8″ up="8″ down="8″][/vc_column][/vc_row][vc_row row_type="row" use_row_as_full_screen_section="yes" type="full_width" text_align="left" video="" side_padding="20%" padding_top="8″ padding_bottom="8″ css_animation="" box_shadow_on_row="no"][vc_column width="1/3″][cq_vc_vectorcard avatartype="icon" avataricon="entypo" icon_entypo="entypo-icon entypo-icon-bookmarks" authorname="PhD" authorrole="36-40 ICH | 60 ECTS" cardstyle="bluejeans"]Program Type[/cq_vc_vectorcard][/vc_column][vc_column width="1/3″][cq_vc_vectorcard avatartype="icon" avataricon="entypo" icon_entypo="entypo-icon entypo-icon-shareable" authorname="EUCLID School of Diplomacy and International Affairs" cardstyle="customized" cardtopbgcolor="#dda756″ linedirection="straight"]School[/cq_vc_vectorcard][/vc_column][vc_column width="1/3″][cq_vc_vectorcard avatartype="icon" avataricon="entypo" icon_entypo="entypo-icon entypo-icon-infinity" authorname="Online / Distance" authorrole="Part Time or Full Time" cardstyle="mint" linedirection="straight"]Study Mode[/cq_vc_vectorcard][/vc_column][/vc_row][vc_row row_type="row" use_row_as_full_screen_section="no" type="full_width" text_align="left" video="" css_animation="" box_shadow_on_row="no"][vc_column][vc_separator type="normal" color="#c1e5f4″ thickness="8″ up="8″ down="8″][/vc_column][/vc_row][vc_row row_type="row" use_row_as_full_screen_section="no" type="full_width" text_align="left" video="" css_animation="" box_shadow_on_row="no"][vc_column][et_parent tab_style="topline"][et_single icon="info-circle" tab_title="Overview" tab_id="3a0f4fde-babe-10″][vc_column_text]
EUCLID's Online PhD in Mediation and Conflict Resolution
EUCLID's online doctorate / PhD  in mediation and conflict resolution is unique in that offered by an international intergovernmental organization with a university mandate and specialized expertise in diplomacy, in partnership with the world's premier network of mediation professionals: WMO (Berlin).
It is therefore only doctorate in mediation and conflict resolution organized by an international intergovernmental organization and officially used by senior civil servants over 4 continents.
This doctoral program requires pre-dissertation coursework that provide a triple competency: mediation at the international level, mediation at the local and inter-personal level, professional negotiation.

[/vc_column_text][vc_separator type="normal"][vc_column_text]
Academic Presentation
This EUCLID PhD meets the highest international standards by requiring the completion of 90 ICH beyond the Bachelor's degree, of which 25 are obtained through the dissertation. Most students will enter the program with a relevant Master's degree, thereby transferring about 35 credits. The pre-dissertation coursework, representing about 35 credits, will build on the student's prior learning and cover, with graduate level courses:
Diplomacy and International Law
Conflict Studies
Core Mediation and Conflict Resolution
Inter-personal and psychological dimensions, including Critical Thinking
Negotiation.
EUCLID has a well-established competency in interfaith studies, which enables students to cover conflict and mediation from a religious perspective.
As is the case for all EUCLID PhDs, this doctorate aims as producing solutions-oriented scholars and practitioners able to serve at all levels of government and civil society.
[/vc_column_text][vc_separator type="normal"][vc_column_text]
EUCLID + WMO= Global Mediation in Practice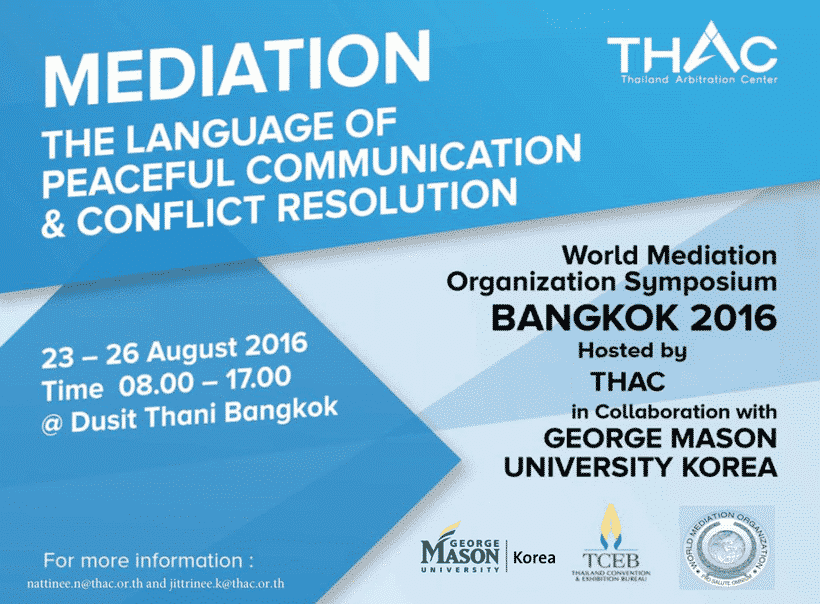 Photo above: WMO Mediation Summit 2016[/vc_column_text][/et_single][et_single icon="align-justify" tab_title="Outline" tab_id="fcacf16f-1cb8-7″][TS-VCSC-IFrame content_iframe="http://www.euclid.int/degreecourses-iframe2.asp?DegreeIndex=72″][/et_single][et_single icon="check-circle-o" tab_title="Requirements" tab_id="1467953415050-2-7″][cq_vc_materialcard title="Admissions / Entry Requirements for the MMCR" icon_fontawesome=""]
Applicants should have a relevant Master's degree issued by an institution listed in the UNESCO-IAU handbook / database. Similar or related backgrounds with adequate professional experience may be considered
Government-sponsored applicants (who are already government staff) may be admitted without the required educational credential if their level of education and experience is deemed sufficient. EUCLID may require these participants to complete bridge courses prior to enrolling in the program.
Fluency in English (spoken and written) is required and will be tested.
Students are expected to be in position to dedicate 10 to 15 effective hours of study on a weekly basis.[/cq_vc_materialcard][/et_single][et_single icon="euro" tab_title="Tuition" tab_id="1467953460876-3-3″][cq_vc_materialcard title="Tuition and Fees" icon_fontawesome=""][iframe src="http://www.euclid.int/iframe-tuition-phd.asp"][/cq_vc_materialcard][/et_single][et_single icon="arrows-alt" tab_title="Employment" tab_id="1467953508756-4-6″][cq_vc_materialcard title="Employment Outlook" icon_fontawesome=""]This EUCLID MMCR provides outstanding professional and academic preparation to its students for a successful career in mediation at the international, local and inter-personal levels. Our alumni have been successful securing employment and promotions in government service and international organizations.[/cq_vc_materialcard][/et_single][et_single icon="users" tab_title="Faculty" tab_id="1468020030412-5-9″][vc_row_inner row_type="row" type="full_width" use_row_as_full_screen_section_slide="no" text_align="left" css_animation="" box_shadow_on_row="no"][vc_column_inner][cq_vc_materialcard title="Faculty Highlights" icon_fontawesome=""]EUCLID's MMCR program is supported by a world-class faculty group which is truly global in scope and dedicated to high-quality interaction with each student. For each program, 3 faculty members are featured below, and the full faculty roster is accessible via the top menu.[/cq_vc_materialcard][/vc_column_inner][/vc_row_inner][vc_row_inner row_type="row" type="full_width" use_row_as_full_screen_section_slide="no" text_align="left" css_animation="" box_shadow_on_row="no"][vc_column_inner width="1/3″][cq_vc_vectorcard avatartype="image" avatarimage="16708″ resizeavatarimage="yes" avatarimagewidth="180″ authorname="Professor of Mediation" authorrole="(Germany)" cardstyle="bluejeans" avatarlink="url:http%3A%2F%2Fm.euclid.int%2Ffaculty-profiles%2F|||"]Pr Daniel Erdmann[/cq_vc_vectorcard][/vc_column_inner][vc_column_inner width="1/3″][cq_vc_vectorcard avatartype="image" avatarimage="16592″ resizeavatarimage="yes" avatarimagewidth="180″ authorname="Adjunct Professor of International Affairs" authorrole="(USA | Belgium)" cardstyle="bluejeans" avatarlink="url:http%3A%2F%2Fm.euclid.int%2Ffaculty-profiles%2F|||"]Robin van Puyenbroeck[/cq_vc_vectorcard][/vc_column_inner][vc_column_inner width="1/3″][cq_vc_vectorcard avatartype="image" avatarimage="16590″ resizeavatarimage="yes" avatarimagewidth="180″ authorname="Professor of Diplomacy and Public Law" authorrole="(C.A.R.)" cardstyle="bluejeans" avatarlink="url:http%3A%2F%2Fm.euclid.int%2Ffaculty-profiles%2F|||"]Pr Charles Doubane[/cq_vc_vectorcard][/vc_column_inner][/vc_row_inner][/et_single][/et_parent][/vc_column][/vc_row][vc_row row_type="row" use_row_as_full_screen_section="no" type="full_width" text_align="left" video="" css_animation="" box_shadow_on_row="no"][vc_column][vc_separator type="normal" color="#c1e5f4″ thickness="8″ up="8″ down="8″][interactive_banner_2 banner_title="Download Brochure" banner_desc="The full DMCR Brochure can be downloaded in PDF format." banner_image="id^16355|url^https://m.euclid.int/wp-content/uploads/2015/04/header-euclid-2016-visualization.jpg|caption^null|alt^null|title^header-euclid-2016-visualization|description^null" banner_link="url:http%3A%2F%2Fwww.euclid.int%2Fbrochures%2Fdmcr.pdf||target:%20_blank|" banner_style="style11″ image_opacity="0.8″ image_opacity_on_hover="0.4″ banner_title_style="font-weight:bold;" banner_title_font_size="desktop:42px;" banner_title_line_height="desktop:44px;" banner_desc_font_size="desktop:24px;" banner_desc_line_height="desktop:24px;"][vc_separator type="normal" color="#c1e5f4″ thickness="8″ up="8″ down="8″][/vc_column][/vc_row][vc_row row_type="row" use_row_as_full_screen_section="no" type="full_width" text_align="left" video="" css_animation="" box_shadow_on_row="no" bg_type="image" parallax_style="vcpb-vz-jquery" bg_image_new="id^16299|url^https://m.euclid.int/wp-content/uploads/2015/04/header-euclid-2016-dc-office.jpg|caption^null|alt^null|title^header-euclid-2016-dc-office|description^null" bg_image_repeat="no-repeat"][vc_column][vc_separator type="normal" color="#c1e5f4″ thickness="8″ up="8″ down="8″][cq_vc_bannerblock bannertitle="Why study at EUCLID?" titleborder="solid" titlebordercolor="#ffffff" bannercontent="EUCLID is the only intergovernmental, treaty-based university with a UN registered charter and recognized expertise in SD. Its MBASD program was ranked #1 among the world's 17 best by the independent US research firm "BestCollegesReview"" textcolor="#ffffff" isarrow="arrowbottom" arrowcolor="#ffffff"][vc_separator type="normal" color="#c1e5f4″ thickness="8″ up="8″ down="8″][/vc_column][/vc_row][vc_row row_type="row" use_row_as_full_screen_section="no" type="full_width" text_align="left" video="" side_padding="20%" padding_top="10″ padding_bottom="10″ css_animation="" box_shadow_on_row="no"][vc_column][ultimate_heading main_heading="From the EUCLID News and Blog"][/ultimate_heading][jps_bete_sc style="bt-carousel-6″ filter_options="category" items_per_page="5″ taxonomies="2, 5, 7″][/vc_column][/vc_row][vc_row row_type="row" use_row_as_full_screen_section="no" type="full_width" text_align="left" video="" css_animation="" box_shadow_on_row="no"][vc_column][vc_separator type="normal" color="#c1e5f4″ thickness="8″ up="8″ down="8″][/vc_column][/vc_row][vc_row row_type="row" use_row_as_full_screen_section="no" type="full_width" text_align="left" video="" css_animation="" box_shadow_on_row="no" bg_type="image" parallax_style="vcpb-animated" bg_image_new="id^16553|url^https://m.euclid.int/wp-content/uploads/2016/07/separator01.jpg|caption^null|alt^null|title^separator01|description^null"][vc_column][cq_vc_bannerblock bannertitle="Contact Form" textcolor="#ffffff" elementheight="120″][/vc_column][/vc_row][vc_row row_type="row" use_row_as_full_screen_section="no" type="full_width" text_align="left" video="" side_padding="20%" css_animation="" box_shadow_on_row="no"][vc_column][vc_column_text]
[/vc_column_text][/vc_column][/vc_row][vc_row row_type="row" use_row_as_full_screen_section="no" type="full_width" text_align="left" video="" css_animation="" box_shadow_on_row="no"][vc_column][vc_separator type="normal" color="#c1e5f4″ thickness="8″ up="8″ down="8″][/vc_column][/vc_row]