In the sidelines of the UN General Assembly, EUCLID Under Secretary-General Robin van Puyenbroeck met H.E. Charles Armel Doubane, Minister of Foreign of the Central African Republic and a member of the EUCLID Oversight Council. The two officials discussed a number of topic of common interest, including the security situation in parts of the country and the Minister's recent doctoral dissertation which specifically deals with multilateral universities.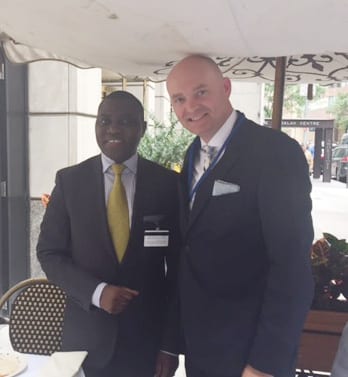 During the week, Robin van Puyenbroeck also moderated a United Nations Population Fund panel organized with the United Nations Association (featured photo and information below):

The United Nations Association of New York is holding a special debriefing panel for our Summer Scholar 2017 fellowship winners — and we're inviting everyone to come and meet Niki Shrestha, Jaynice Del Rosario and Katie Nelson! 
This year our selected UNA-NY Summer Scholars were busy using their sunny days in Laos, Turkey and Vietnam to work with the United Nations Population Fund (UNFPA) and Plan International. Our fellowships provided them with opportunities to get direct experience with agencies who work to establish better possibilities for women and children around the world, in areas of maternal health and reproduction outcomes as well as children's rights.
Please join us for this special panel to meet this year's Summer Scholars — and hear about their experiences, some of the challenges of working in the field, as well as their contributions being involved with these international organizations.