EUCLID was established by a multilateral instrument known as a "treaty in simplified form" in 2008.
According to the Vienna Convention on the law of treaties of 1969, a treaty is defined as "an international agreement concluded between States (or in some cases between States and intergovernmental organizations, or even between intergovernmental organizations) which has the following attributes: (1) in written form and (2) governed by international law, (3) whether embodied in a single instrument or in two or more related instruments and (4) whatever its particular designation."
The registration and publication of treaties and international agreements between states is regulated by article 102 of the United Nations Charter which stipulates that:
Every treaty and every international agreement entered into by any Member of the United Nations after the present Charter comes into force shall as soon as possible be registered with the Secretariat and published by it.
No party to any such treaty or international agreement which has not been registered in accordance with the provisions of paragraph 1 of this Article may invoke that treaty or agreement before any organ of the United Nations.
---
In accordance with these procedures, the EUCLID Charter was registered with and published by the United Nations Secretariat and is therefore publicly accessible and verifiable in the UNTS database.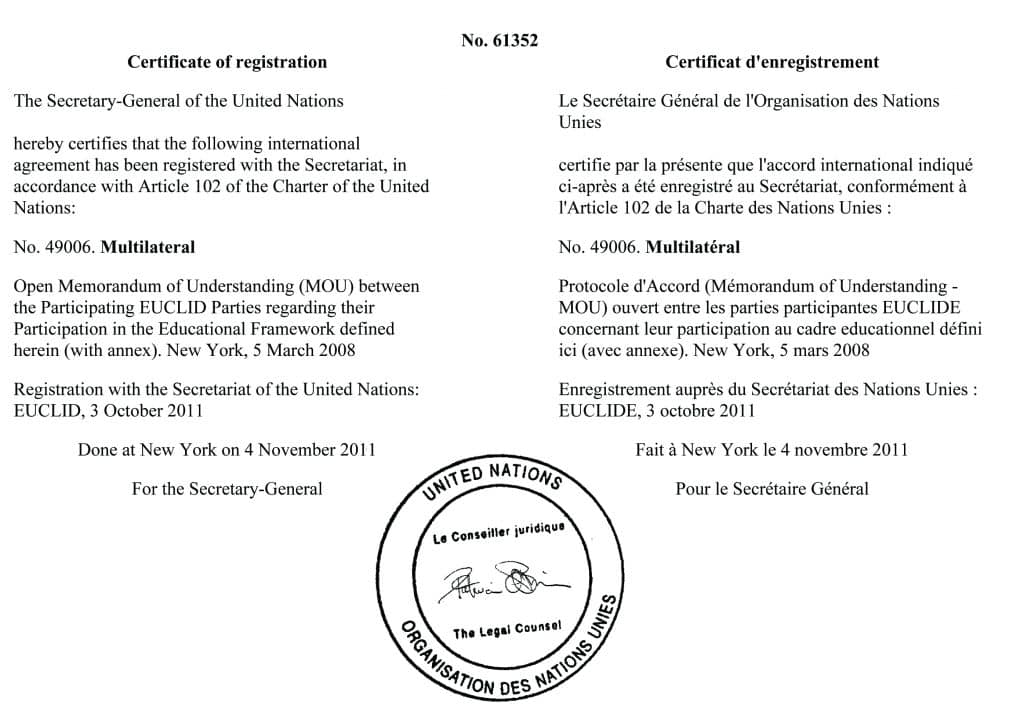 Image above: the UN certificate for the initial instrument (49006). The EUCLID treaty takes the form of two related instruments known as 49006 and 49007.